Stone and Granite Worktop repairing and renovation - restored almost to new
Rejuvenate your worktops

We offer a service to spruce up your tired stone worktops. It includes:

Chemical cleaning and sealing
Buffing
Edge restoration
plus advice on looking after your worktops.

All for £300+vat
Is your granite or stone worktop damaged – cracked, chipped, damaged edge, stained, lost its sheen...we can deal with most problems, provide you with a fast, long lasting repair that is in most cases almost invisible. You may find our guidance on looking after your granite worktop useful. We use the latest technologies to provide the best repair possible. We can usually deal with:
Chips and scratches can be repaired with suitable fillers.

Note: Some stones are more difficult to repair invisibly than others - in particular pure black and white stone are the hardest to achieve near invisible repairs.

Most finishes can be repaired to be almost invisible but viewing from different angles and in different lighting conditions will reveal the repair - but as with most things, if you know it is there, you see it but no one else notices.

Naturally we will make every effort to repair your worktop without the repair showing but this cannot be guaranteed.

Marks, rings etc.

Firstly we will try chemical repairs and buffing as this can often produce good results with the least effort and cost to you.

If this does not work well enough it will mean re-polishing a large part of or the whole worktop surface (which might require a second visit).

Ideally re-polishing should not be done inside your home as it is very messy (lots of dust and water) and takes several hours but if it is not practical to remove the worktop then we will try our best to minimise the mess and clean up afterwards. However it is impossible to stop the dust getting everywhere so you will need to do a thorough spring clean yourself after our work is done. The more you can cover up or remove yourself before we start this work the more time will be saved.

You should also be aware that re-polishing involves grinding away part of the worktop surface so a large part of the surface needs to be worked on to get as even a result as possible, the more the better (but the greater the time and therefore cost). Also when done in situ this has to be all done by hand tools which may mean in certain light conditions the surface does not look perfectly level and even to the critical eye.

Cracks.

The first consideration with a crack must be the cause. If this is not investigated and rectified it is likely that the problem will re-occur. This may result in additional costs that we could not anticipate when providing initial cost estimate.

Cracks on worktops around hobs and sinks are a common problem as these are the weakest points. This may be due to uneven base units or lack of support in the right places. So we may need to re-level units and provide extra supports (which might mean we need to cut joints at take piece out for installing steels bars for reinforcing the granite worktop).

A dishwasher under cracked stone can be due to steam and lack of ventilation so some additional ventilation will need to be created.

In many cases we are likely to recommend replacing the stone worktop if this is not too expensive and a good match can be made. Otherwise we will repair the crack as well as we can however in our experience the repair is only likely to be 70% satisfactory.
Pricing: granite and stone repairs and restoration
Minimum charge is £150 (includes the first hour) and £50 for every additional hour spent.
Please note our charge is payable regardless of the final outcome as repairs cannot be guaranteed to be invisible although we will do our best to evalulate the likely outcome before we start work to try to avoid disappointment.
All Areas in 30 mile radius from our workshop in Reading (RG7 4ED) are all covered for the same price. Customers from outside 30 mile radius £10-£30 will apply for extra mileage.
Call Craftsman Ltd now or e-mail photos of damage to - This email address is being protected from spam bots, you need Javascript enabled to view it
Craftsman Ltd – experts in granite and stone worktop repairs and restoration
Granite and Stone can be used in bar tops, kitchen, bathroom and shower room worktops and floors, wall panels, flooring surfaces and mosaics, stairs and door steps (inside and outside use), fireplaces, windowsills, headstones and sculptures. We are experts in granite repair and restoration:
We repair all types stone surface damage including damaged edges, surfaces, impact damage, cracks as well as defects caused during the installation and finishing of natural and engineered stone.
We also provide granite and stone restoration services such as re-polishing, joint refilling, re-sealing, sanding, stain removal, cleaning and maintenance.
We can remove old stone and granite fittings and replace with new.
We can move good stone fittings and install them elsewhere.
If you have a problem with your stone or granite fittings give us a call - we are happy to discuss options with you.
We use the best technologies to get the best results
Craftsman Ltd. provides the highest-quality granite and stone repair and restoration services as we use StoneLux™ equipment, which is internationally recognized as a high-quality comprehensive repair system that produces true-to-nature results. StoneLux is officially recommended by Silestone, Caesarstone, Technistone, BMT Rekostein.
The longevity of the repair is impressive: heat resistant up to 400 F, resistant to houshold chemicals, strong bond - withstands 3.7 tons/cm2 and has a bonding force of 75 kg/cm2.
We maintain all types of granite and stone
Craftsman Ltd provides all types of maintenance services related to all types of stone including marble, granite, limestone, travertine, quartz and composite (engineered) stones – including cleaning, worktop levelling, joint cleaning and refilling, polishing, waxing, impregnating and sealing.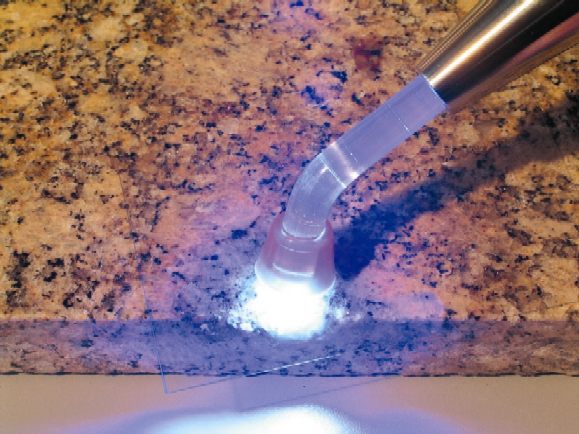 If you have any questions or need more information, please contact us, we will be more than glad to help.
Craftsman Ltd. is certified [1, 2] to provide repair and restoration services for any polished natural or artificial stone:
Repair or Renovation in both indoor and outdoor areas.
Repairs are colour-stable and won't start yellowing.
Using latest technologies enables us to match the colour perfectly and get three-dimensional effect, so the repair matches almost perfectly in most cases.*
Fast repairs - small/medium crack damage usually can be repaired in 5 to 15 minutes, each.
Neighbouring surfaces remain undamaged during the repairing process.
Long-lasting lustre and high surface quality are guaranteed.
The repair is resistant to frost and heat.
*Note: Granite and other Stone are natural products and each and every one is unique. Every surface has its own nuances, for example: granite type, its class, quality, colour, its country of origin, porosity within, crystal size etc. Bright colour surfaces produce a better match (~99%). Completely black surfaces do not always result in an exact match (~90%).
It takes more time to repair a worktop damaged with chemical liquids and getting a almost perfect match is less likely although sometimes possible.
It would be very helpful, if you sent us photos of the damaged, and any information you have on stone or granite you have. CALL us, write us an e-mail to - This email address is being protected from spam bots, you need Javascript enabled to view it
Need to know more about granite and stone repairs and restoration services
We repair and restore Granite and Stone worktops, floors, wall panels, stairs and door steps (inside and outside use), fireplaces, windowsills, headstones and sculptures.