Glass Processing
1. Polished glass
Colourless - a clear glass, good light transmission (good light conductor) via polished glass surface. Thickness from 2 to 19 mm. Can be used for a very wide range of applications, from simple glass products to the most complex architectural designs.
Tinted - polished glass coloured during production. The most common colours: brown (bronze), grey, green and blue. Used to reduce Ultra Violet rays from the sun. Thickness from 4 to 10 mm.
Any toughened Clear Glass could be coloured with any RAL colour. 12 main colours are readily available, other colours available on order but may take a few days extra.

2.  Decorative Glass
Screen (ornamental, relief, pattern) – A range of patterned and reinforced glass available for doors, screens, furniture, ornaments, kitchen cupboards and more.
Matt, Opaque - Acid or sand etched glass available in various finishes including: colourless, polished, and painted. Acid etched glass has the advantage in comparison to sand etched glass - surface is smoother.
Mirror - polished glass, coated with a reflective silver coating, protected by several layers of paint. Also the mirror could be produced with a hint of colour: brown, grey, green or blue. Main areas of application: furniture (kitchen and bathroom, bedroom) and interior elements and more. Colourless mirrors are 3 to 6 mm thickness and coloured glass are 4 mm thick. Mirrors can be etched with a range ornamental patterns.
Max dimensions in one piece 3210 x 2250 mm.
Polishing and bevelling options for mirror available.
3. Glass Processing
a. Cutting - We can do custom cut glass. Maximum dimensions - 3210 x 2250 mm, thickness - 2-25 mm.
b. Figurative Cutting - We can cut any glass figure/shape using drawing or template.


C. Grinding/Shaping - After the glass is cut to size and before edge polishing we can grind and shape edges. This is used for glass furniture and various interior pieces. Grinding is suitable for 3 to 30 mm thick glass. Additional grinding options:
Trapezium (Chamfer)


Trapezium Grinding - Glass edge becomes trapezoid shape and edge becomes smooth and matt.  Minimum size required 60 x 60 mm.
Half Rounded


Half rounded Grinding - Glass edge becomes slightly rounded, smoother and matt. Minimum size required 110 x 110 mm.
D. Edge Polishing - After glass is cut to size then we can remove the sharp edges by polishing. Edge polishing service applies to 2 to 6 mm thick glass and must be done after all other processes.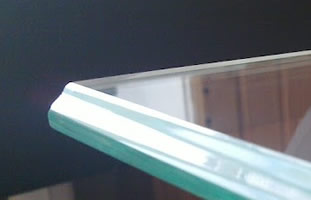 Polishing Edges - To get a smooth and transparent polished edge on the glass after the grinding and shaping. 3 to 30 mm glass can be polished as follows:
Polished trapezium (Chamfer)


Polished rounded and half rounded


Polished Wave (Ogee)


Bevel (Facet) edge - An angled edge is created on the glass. Maximum size of bevel depends on the thickness of the glass.



For 3 mm thick glass - up to 15 mm
For 4 mm thick glass - up to 20 mm
For 5 mm plus thick glass - up to 25 mm
Bevelling is possible between 3 and 45 degrees and can be done on both sides of the glass. Minimum work piece dimensions is 35 x 35 mm. Facet on curved pieces possible max 17mm, on square pieces up to 25mm.
Drilling - Drilling carried out on both sides simultaneously, that double drilling process allow us to avoid cracking or displaced hole cut-outs. The hole diameter can be from 4 to 100 mm. Larger diameter cut outs may be possible by milling.


Electrical sockets, tap halls, halls for sink waste, spec fixing halls.
Milling - Used for large cut outs and holes of various shapes. Shapes include oval, circular, square with rounded corners or other ellipse shapes. 


Hobs, sink cut-outs, metal roods, pipe cut-outs, column and other
Toughened Glass - hardens the glass up to 5 to 6 times stronger than ordinary glass and when it breaks there are no sharp pieces.
Toughened glass is used for doors, partitions, glass tables, worktops, splash backs, roofs, glass floors and other interior and exterior features.
Engraving - Glass decorating by mechanically engraving top glass surface. We have a sample library or custom designs can be done based on a provided design or image.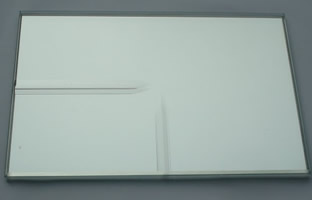 Matting - Glass decorating by dulling or matting the glass top surface using compressed air and aluminum oxide. Also matting could be sanded (or oposit chemically). Glass matting can be done to whole surface or just parts (zones) to produce a design.  The maximum glass size is up to 2000 mm in length. Also during manufacturing Matt glass other technological processing combinations are possible: Lamination, making bespoke patterns, colouring, screen-printing and other.


Painting (glass coloring) - coating the glass surfaces with special lacquer paints. Haze, matt or gloss finishes are available in a wide range of RAL colours. Main factory standard colors is 13 main RAL colours ( 1015, 1023, 2002, 3011, 3020, 5005, 6019, 6020, 6029, 8002, 8017, 9011, 9016) are readily available, other colours available but that may take a few days extra on production. And yes we aware about NCS or Dulux colour codes let us know what colours you need in any standard you have use to.
RAL small images with color names and codes

Frosting - involves applying special glue on top of glass which break, scratch and bite the glass (on side where is glue been applied) to make a frosted surface effect, we call b-relief as the glue dries. This technology is very old and it could be used for very bespoke projects.
Products: Mirror ornaments/patterns, spec signs (café & restaurant, old school adverts) for indoors, glass furniture, bar and restaurant partitions elements and other interior details.


Bonding Decorative pieces to glass - UV adhesive bonding - glass bonding to glass, metal, ceramic. Transparent adhesive which reacts exposure to UV light resulting in an invisible layer of glue that is stronger than glass. Also used to glue 2 or 3 pieces of glass together to provide thick glass.


Special, multi-purpose Glass
Gold Layers incrustation - also same frosted glass could be used in combination with laying fin and pure gold plates but before that applying film with desired pattern, which will remain flat so golden layers, becomes like gold mirror. Also some of ornaments could be painted with some colours.
Gold plates could be Yellow gold and White Gold also with silver.
(GOLD PLATE, FILM, PET, LAYER)
Bonding Decorative pieces to glass - UV adhesive bonding - glass bonding to glass, metal, ceramic. Transparent adhesive which reacts exposure to UV light resulting in an invisible layer of glue that is stronger than glass. Also used to glue 2 or 3 pieces of glass together to provide thick glass.
Lamination - Increase your SAFETY - laminated and toughened glass. Laminated glass 2 or more sheets of glass laminated (glued) together with layer (clear, opaque or coloured) between them. If glass are broken the glass is held in place by laminate layer - suitable for Health and Safety requirements - used for security glass windows, partitions, various interior elements. Glass kitchen countertops recommended, thickness 10mm, 12mm, 15mm, 19mm other option is by using lamination to glue few glasses together in order getting more thicker glass panes. Decorative laminated glasses consist of two sheets of glass assembled with one or more plastic interlayer's. Many decorative effects can be achieved by using coloured, matt or structured glass and/or decorative coloured interlayer's.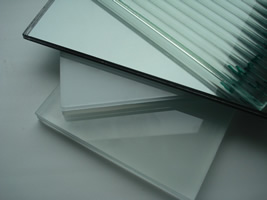 Products: Partitions but mainly WORKTOPS (Bathroom & Kitchen).
Bending/Curved glass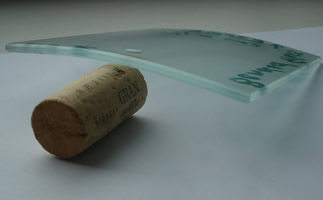 Products: Bespoke bathroom sinks, art deco worktops, art deco mirror, kitchen unit curved doors, curved bathroom doors and other.
UV Printing on Glass & Mirror is high quality (1080 dpi) & durable with a very high UV resistance, great for either indoors our outdoor use. UV Printing technology is very universal and ecological and does not use any solvents as digital printing so is very eco friendly, Ultra violet (UV) reactive inks and coatings require a high intensity source of UV light to initiate a chemical reaction. This reaction dries the UK ink or coating in fractions of a second, this enables us to take the job straight to the finishing surface with a speedy turnaround. Printing preparation work is very simple we only need image file from you. We are able to print directly onto glass up to 2440 x 1220 (Max. Size). Paint manufacturers for UV resistance gives 3 years warranty for outdoor use without any additional coating.

Samples for images:
www.istockphoto.com/
www.shutterstock.com/

Crushed Glass Panels
3 sheets of toughened glass are glued together, the middle one is broken.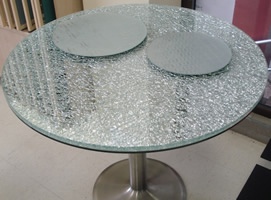 Products: normally 32mm thickness > could be used for stairs or glass flooring, or worktops.
Anti-reflection glass - a very low reflectivity glass. Used in picture framing, display cabinets. Thickness from 2 to 10 mm.
Robax - fireproof glass resistant to high temperatures – it is a transparent glass ceramic product, also known as FIREPLACE GLASS.
Glass has a very low coefficient of expansion Silom: D (20-7000C) = (0.0 + / -0.3) x (10-6K)
Maximum operating temperature: Tmax = 750C
Glass density: N = 2.6g/cm3
Tests are carried out in accordance with DIN 13316 Standard.
Used for fireplace doors, lamps,  heating elements, cooker hoods. Glass cut to size.
Fire - glass, during fire could protect facilities and people from 30 to 180 min. Glass options reinforced, Pyroshield or Pyrobel. Could be Used for fire doors and partitions.
Increased Transparency - modified the composition of polished glass with enhanced light transmission. Thickness from 4 to 12 mm. Could be used for large shop windows,  showrooms and in other glass products or interior elements.