Measuring (templating) and fitting granite kitchen and bathroom worktops
Preparation for measuring (templating) your granite worktops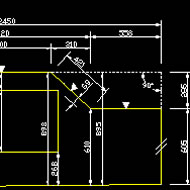 Granite is very heavy. It weighs more than 90 kilograms per square metre.
Please ensure that cabinets are secured firmly to the wall, are level and have sufficient braces and that the floor can support the weight of granite worktops.
Final locations of sinks, hobs, taps or any other fittings must be decided upon before templating can be completed.
Please ensure cabinets and supports are not moved after we have been to template. Measurements taken at that time are crucial to ensure a good fitting environment. Changes after we have taken our measurements and templates are likely to cause significant difficulties and could be very costly to deal with.
Joints
By its very nature, granite is a very dense and heavy material so it is not practical to provide lengths of granite worktops in excess of three metres. We also reserve the right to add joints where necessary to conform with health and safety guidelines or where access is restricted.
Delivery and Fitting
We operate National Wide throughout the UK and within parts of the EU. Contact us for EU availability at: This email address is being protected from spam bots, you need Javascript enabled to view it .
We normally deliver and fit within 2 weeks of an order being placed.
Remove any cupboard fronts and other items that may get damaged
When handling granite, our fitters are extremely careful. However, the granite worktops are very heavy and can be difficult to handle in confined spaces in kitchens and bathrooms. Therefore please remove cupboard fronts and any other items that may get damaged during fitting of granite worktops. We can not take responsibility for damage to such items that are left in place.
Fitting sinks in granite worktops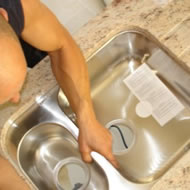 Please ensure that suitable space and support is provided for the sinks. In most cases a sink will come with fitting instructions that will explain how to adapt the base unit to provide adequate room and support for the sink.
Our templater will be able to explain what needs to be done by you (or your builder or kitchen fitter) before or after our worktop fitters do their work. If our fitters need to do extra work when they arrive to accommodate sinks they may need to make an additional charge at the time.
Heavy Undermounted Sinks
In most cases heavy undermounted sinks, such as enamel sinks, recommend that a wooden frame is contructed all around the kitchen sink and the gap between the granite worktop and sink sealed with silicone. In our experience, building a wooden support frame is best done after the granite worktop has been fitted. This will need to be done by you (or your builder or kitchen fitter). If this is the case our granite worktop fitters can help by gluing the sink to the bottom of the granite worktop so that the wooden frame can be constructed afterwards.
Stainless Steel Undermounted Sinks
Our fitters will screw and glue stainless steel sinks to the granite worktop using sink clips (which normally come with the sink). They will also seal with clear silicone the joint between the worktop and sink.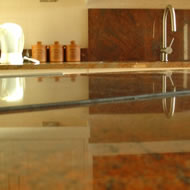 Fit splash backs
Please note walls are rarely straight or square consequently there may be small gaps between the granite worktop and the wall. Therefore we advise that a splash back is fitted with the granite worktop or the wall tiled after the worktop is fitted. Our fitting team may also need to slightly modify walls next to the granite worktop. Naturally every care is taken to minimise the impact and damage of such work, but Craftsman Ltd can not take responsibility for live plaster falls. It is the customers responsibility to prepare the walls appropriately and repair any such damage.
Extra hands
On some occasions, especially when granite worktop pieces are particularly large and/or cumbersome (e.g. large islands of granite worktops), it may be necessary to arrange a extra people to assist in lifting and moving the granite worktops into place. The customer may provide the extra people and in this case Craftsman Ltd cannot accept liability for the wellbeing of those people. If the customer does not have additional helpers available, a separate charge may be levied by Craftsman Ltd for providing the necessary manpower. However, your templater will be able to identify such situations at an early stage, and all arrangements will be subject to negotiation.
Water and Gas fitting
We fix sinks and hobs to the granite worktops, but you should ask a suitably qualified plumber and gas fitter to connect the water and gas.
Looking after your beautiful granite worktops
Our staff are happy to advise. We have set up a Granite Kitchen and Bathroom Worktop Care and Maintenance page to help our customers.
Defects and imperfections
Granite is a natural material and on rare occasions can have defects or imperfections due to the natural working characteristics of materials supplied. There may be small chips which arised in the course of manufacture, delivery and/or installation. We reserve the right to replace or repair minor defects entirely at our own discretion. We also reserve the right to use chemical or resinous fillers, some of which may already be present in the granite worktop to effect any repairs.