A family firm with a rich history of working with Granite and Stone
We are an innovative company operating throughout the UK and Europe. We are a family-based team of skilled craftsmen, with long experience in working with stone, joinery and other building works. We have been producing original and creative granite products for over 50 years.
NEW WEBSITE

We have a new multi-language website dedicated to
Granite Worktops at www.4graniteworktops.co.uk

This includes a new photo gallery and a visitors book for our customers to comment on our work.
Great value - the best granite prices
We strongly believe we can offer the best value products around - come and check out our prices on our online granite worktop quotation service - and are dedicated to offering the best customer service by combining personal service, traditional craftsmanship with modern technologies. Our teams of craftsmen in the UK run their own mobile office setups to provide flexibility and keep our prices as low as possible.
We offer templating, manufacture, delivery, fitting and DIY (Do-It-Yourself) option of granite kitchen and bathroom worktops to private homes and commercial companies. You can select the desired colour and design of your granite worktop and calculate the estimated price on this site. Alternatively, you can contact us via telephone or email. We can arrange to visit you with granite samples and costing details.
Great service - creative granite products
We are proud of our work and we are sure all our customers are proud of the end results of our work. Please feel free to contact us - we will gladly provide details of our clients in your area who you can talk to or perhaps visit to see our work first hand.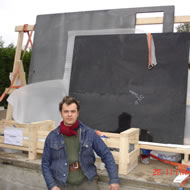 UK and European
New Workshop in Reading Berkshire

We now have a new factory, workshop and showroom in Reading.
Please come and visit us.
You may be interested to know that we are originated in the Baltic States, initially based in Klaipeda, the major seaport in Lithuania. Responding to the expansion of the European market and international business possibilities during the last decade, we have been working in various stone and granite projects in numerous countries including Russia, the Netherlands, Germany, Sweden, Switzerland. Our company started to operate under the name of Craftsman Ltd in 2004.
The raw materials are shipped to our workshops in Klaipeda (Lithuania) and Reading (United Kingdom) where our skilled craftsmen design and create our beautiful and original granite products. These include worktops, head stones, stair cases, bathrooms, bar worktops, window sills, tiles, stone art solutions etc. We are happy to look at any stone manufacturing project. We also provide granite and stone product repair services.
As we operate in Lithuania and the UK we are able to respond quickly to meet your requirements.
5 to 10 days from order to fitting!
We have very well organized logistics so we can fulfill your order quickly and efficiently. Once your order is confirmed, it will normally take between 5 and 10 days for your granite worktop to be ready for fitting! Our well-trained and experienced granite worktop installation team will deliver and fit your new granite worktops right away.
Fully fitted or just supplied - your choice
If you prefer - we can just supply the granite product, you can arrange your own installation team or DIY. (Be aware granite is very, very heavy and needs to be handled with due care and consideration - it is not a one man job!).