Stone and Granite Worktop Care and Maintenance:
kitchens, bathrooms etc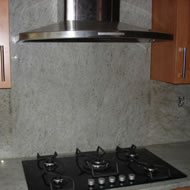 Granite is a very tough natural stone, it is a beautiful long lasting, hygenic material - ideally suited to countertops and worktops in the kitchen or bathroom. Granite now provides modern kitchens and bathrooms with surfaces that provide years of durable service and adds elegance and style to any setting.
Reseal your granite worktop regularly
Granite is waterproof, stain-resistant, heat resistant, scratch resistant - in most cases it will just wipe clean with a damp cloth. All our granite kitchen and bathroom worktops are sealed before they leave the factory but they will need to be resealed on a regular basis - we recommend every 4 months. Oil based substances can sink into the granite and take a long time to dry out so we recommend that all spills are mopped up immediately.
Care for your granite kitchen or bathroom worktop
Granite worktops can stain and are not impervious to damage so keep your granite worktops and surfaces looking their best for many years to come we provide the following care guidelines:
Granite worktops must not be rubbed with abrasive materials (such as metal pads, scouring detergents and wire wool or alkaline and chlorine based cleaners or bleach) instead, wash with clean warm water to which a non-abrasive light neutral detergent (PH7) may be added. Rinse with clean warm water and dry with a chamois leather or similar. Drainer Grooves can however be cleaned using wire wool.
Liquids spilt on your granite worktops should be mopped up immediately. The most risk is from highly alkaline or acidic liquids (such as lemon juice or vinegar), oil based substances (such as butter and cooking oils - hot oil splattering from cooking pans around the cooker), wine, detergents and alcohol.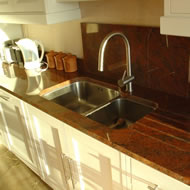 Do not allow any build up of salt or detergent on your granite worktop.
Granite worktops should not be brought into contact with strong acids or chemicals including paint stripper, brush cleaner, oven cleaner, nail varnish remover, degreasant or similar products.
For a longer lasting finish the granite worktop surface can be sealed to reduce its natural porosity. Surface treatments should be reapplied every 4 months after cleaning with a neutral detergent.
Do not hit your granite worktop with something blunt and heavy. It can crack, chip or even break (the edges are most likely to be damaged if physically abused).
We would advise the use of a chopping board as a preparation centre to reduce the risk of damage to your granite worktop.
Do not expose your granite worktop to excessive heat - we advise the use of a tripod or similar to place your pans on when taken directly from the hob.
Stain removal from your granite worktop
Water based stain remover is formulated for the specific removal of stains of an organic nature, such as wine, coffee, nicotine, fruit juices etc.
Alkaline degreaser for removal of dirt of an organic and greasy nature, spots, grease, pollution, smoke stains, lamp black, wax coating etc.
Defects and imperfections
Granite is a natural material and on rare occasions can have defects or imperfections due to the natural working characteristics of materials supplied. There may be small chips which arised in the course of manufacture, delivery and installation. We reserve the right to replace or repair minor defects entirely at our own discretion. We also reserve the right to use chemical or resinous fillers, some of which may already be present in the granite worktop to effect any repairs.
Granite and stone worktops repair and restoration service
Is your granite or stone worktop damaged – cracked, chipped, damaged edge, stained, lost its sheen...we can deal with most problems, provide you with a fast, long lasting repair that is in most cases almost invisible. Stone and Granite Worktop repair services ...